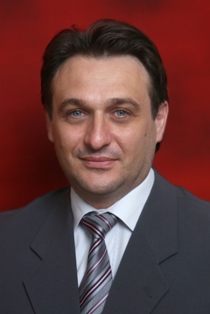 Veterinary profession worldwide is going through important changes which are primary based on the public interest, and are directed on obtaining high quality veterinary service and practicing good veterinary work. European Union is still significant factor in support of these transformations, with obtaining expertise, and setting of the
structural needs for obtaining prosperity of veterinary profession, which is a part of common agenda of every veterinary institution.
Today, the Faculty of Veterinary Medicine in Skopje has three institutes, and via them an integrated education and scientific activity is performed. Besides this, within these three institutes numerous laboratories for diagnostics of intefectious diseases in domestic animals, for food safety monitoring, for production of semen for artificial insemination, for animal welfare and animal reproduction control are organized. All these laboratories have up-to-date and sophisticated equipment, and work according international quality standards (17025).
Education and scientific activity on the Faculty is perofmed by well educated teachers and assitants. Teaching staff has active participation on eminent scientific meetings in the country and abroad, they were and still are visiting-professors on the faculties of veterinary medicine abroad, they are members in national and international professional associations, and do important public and professional functions.
Introduction and implementation of the quality control system (ISO 17025) is based on the new approach of that what the quality means, and changing of management style. The quality is responsibility of all employees on the Faculty of Veterinary Medicine, and all of them give whole support of realization of all previous taken activities, of the conceptions for their integrative management, and participate in the future regulative directions for successful implementation of the European procedures.
Vision and mission of the Faculty of Veterinary Medicine is in recognition and accepting the role of development and maintance of good realtionship with state authorities (Ministry of Agriculture, Forrestry and Water Management, Food and Veterinary Agency, Ministry of Health and Ministry of Education and Science) and with business community.
Faculty of Veterinary Medicine is educating students capable for solving challenges of the time in which they live and work (according the concept widely confirmed in Europe – veterinary medicine + human medicine = one health for all, i.e. doctors of veterinary medicine with caring for animal health also care for human's health and that is an essence of all reforms on the Faculty of Veterinary Medicine in Skopje.
Dean,
Prof. Lazo Pendovski, PhD